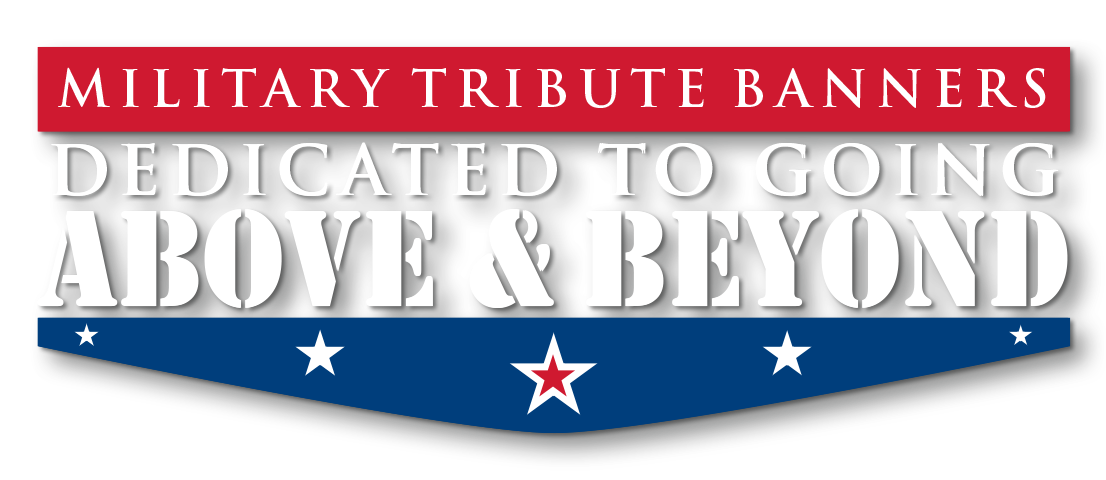 Going "Above & Beyond" is not just a catch-phrase for us. We truly are committed to doing just that when it comes to honoring our military heroes - both past and present. It's vital to us as a company and goes into every banner we produce.
This is why we will gladly donate certain banners to programs in order to ensure we abide by our commitment to honoring our military - especially those who have made the ultimate sacrifice and those committing themselves to do just that by entering into military service. We do not consider ourselves a printing company. We are a military tribute banner company that goes "Above & Beyond" what your "bargain" print company offers. See for yourself.
Gold Star Banners
To help honor those who sacrificed all for our nation, we donate all program banners for those who lost their lives in recent wars (1990-Current) while on active-duty, as well as those who died due to the inner struggles of those wars.
~ In Honor of Jason M. Back, CPT, USMC ~

Cost-Match Pricing
If you can find another printer that can offer everything that we do at a lower banner price, let us know. We will beat it every time. It's our commitment to being the best Military banner producers around. We simply won't be outdone.
~ Contact Us for Details ~

New Enlistment Banners
Less than 1% of all Americans serve in our nation's military. To help honor those who make such commitment, we will donate all banners honoring those who enlist the same year as the banner program display period.
~ Contact Us for Details ~

Photo-Restoration
Years of experience goes into every photo that is displayed on each banner. We take scratched and discolored photos and bring them back to life, even colorizing some - striving to give each honoree's photo the best results possible.
~ Click Here to View Restored Photos ~

Best Guarantee
To ensure that all honorees displayed on our banners receive the full honor that they deserve, we will reprint banners containing errors that detracts any honor from these individuals - even if the information was submitted that way.
~ Contact Us for Details ~

Free-Printing
To help those who help our military heroes, we offer low to no-cost printing on many items to organizations nationwide. From business cards to free promotional event banners, let us know what we might be able to donate.
~ Contact Us for Details ~

Honoring our military heroes throughout communities nationwide.

Plan to make yours one of them in 2023.